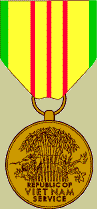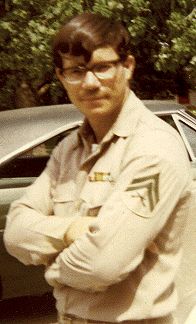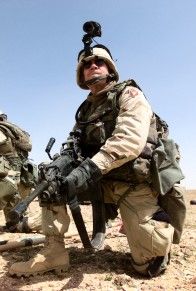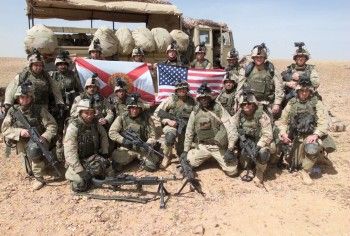 Paul Stevens is a former Marine who served with Fox Co.

      2nd Bn 1st Marines in Vietnam (70-71). And, is now with

                 the Florida National Guard and served in Iraq.

I was in MAB-12 (69-70) Chu Lai Vietnam, and with Fox 2/1 July 70 to June 71.

Currently I am serving with 'C Company 2nd Bn 124th Infantry, Florida National Guard.

We were asigned to the 5th Special Forces from January 03 to April 03, 2003. 

Our function was "Downed Aircraft and Pilot Recovery Missions" as well as "Combat and POW Missions".

On March 19, 2003 we breached two berm's for 'SF and passed 60 vehicles into Iraq.

We were attacked and fired upon by Iraqi Forces at our second obsticle but, they were taken out by a Spectra Gunship.

We continued working in Western Iraq until May then moved on to Bagdad and secured the Bagdad Convention Center in the Ah Raheed District right accross the street from the Ah Raheed Hotel.

We work for a Marine Colonel and he really likes us and the work we do.  There are four former Marines in my Platoon and at least eight more thru out the Company.  I am the oldest Soldier in the Battalion. Our unit has had two KIA's and six to eight WIA's.  

I am so proud to be able to serve with a Infantry Unit and participate in Ground Combat Ops.  "I was Highly Motivated". The first four months in Iraq I carried a M-249 SAW, 600 rounds of amunition, as well as an Armored Vest, Rut, Etc.

Semper Fi, to all my Marine Friends.....

S/Sgt Paul Stevens