IDENTICAL TWINS BROUGHT TOGETHER BY CONFLICTS



By Corpsman Ronald C. Mosbaugh

  2/1 Hotel Company 1966-1967

HMCM USNR RET.

A month ago I submitted a story, "Identical Hospital Corpsman Twins". Since that time I remembered another story that I though you would like to read. My first thought was to make a revision on the first story but it would make it too long. However, it is defiantly a carryover from our twin story. This is another example of how God answers prayer.

As many of you know, due to my PTSD I was forced to retire from my job as a County Clerk for Jasper County in Missouri. It was undoubtedly the best job I have ever had in my life. I had an outstanding staff and they supported me to the upmost.  My last year in office I dealt with many emotional problems: depression, low self-esteem, stress disorder, anxiety attacks, forgetfulness, violent nightmares of Vietnam and the list went on! It got so bad that I prayed that God would allow me to have a heart attack and end my life!



Now, I'm getting to the good part. Don had been working for FEMA since 2005. He worked with Community Relations in Baton Rouge, LA and other disaster areas such as those caused by Hurricane Katrina as well as numerous tornados, floods, etc.  In other words, he had worked in many different states.

During the time I was admitted into the Topeka facility, they were having record breaking floods. So much so that the Kansas Governor applied for disaster relief; it was approved by Washington DC.

This is where things really got weird! Don was called by his regional office to report to Topeka, KS on May 27, 2007. This was one week after my arrival. His hotel was one mile from where I was in treatment. It's strange that we were both brought together by different conflicts!

I remember one day a friend of mine asked me how my better half was. My reply was, "Don is doing well and we see each other daily." He started laughing and I asked what are you laughing about? He said he was talking about my wife! This statement jolted me. I should have given him a statement on how Connie was doing. Let's face it; there is a different type of love between your spouse and your brother or sister, especially an identical twin. There are things that I would say to my wife but not to my twin brother. Likewise, there are things that I would say to Don that I wouldn't say to Connie. It doesn't mean that I love them more or less; it's just the way that it is.

For Don to be at Topeka, KS during my PTSD treatment was exactly what I needed at that time. I was going through so many emotions I don't mind telling you I was a wreck! My low self-esteem and depression took control of my life.  I truly did not want to go on. Being a Christian, I did not believe in suicide, but my prayer was that God would simply take me from this earth! I truly understand why people commit suicide.  God knew I needed the support and he made that happen.

All of my family was praying for me and I know beyond a shadow of a doubt that this was an answer to those prayers! We visited each other every evening and week-ends. Don could have been sent anywhere in the United State. What were the chances that he was sent to Topeka and at this very time is uncanny! God is good and prayer changes things! I completed my treatment on July 6, 2007. Don was sent home one week before my departure!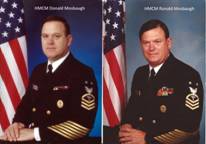 Semper Fi,

HMCM Doc Mosbaugh

USNR Retired

A few months after my retirement, on May 21, 2007, I was admitted into a Stress Disorder Treatment Program at Colmery-O'Neil B.A. Medical Center in Topeka, KS.  It was a seven week in-house treatment facility for PTSD veterans. The first week we were under lock down. We couldn't leave the building except to eat our meals at a building next to where we lived. Then we had to be escorted to the chow hall. After the first week we were free to go wherever we wanted after our classes.