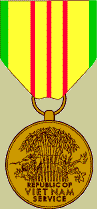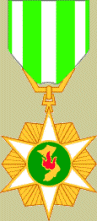 In Memory of:

Daniel L. Bohn

2nd Bn 1st Marines

Hotel Company 1969

Submitted by:

Greg & Valerie Bohn McCourt

gmccourt@resource-one.us



Dan was the intimidating kind of potential father-in-law.  I knew before I met him that he was a Marine.  Valerie had made that clear, it was a huge part of his life.  It was the 1st or 2nd time I had met him that he laid it on the line. 

9/11 had just shaken the US, and Dan looked at me and asked why I wasn't in the service.  He caught me off guard.  I had wanted to at one point, but that time had passed.  Best I could reply was that I felt I needed to be here to protect & provide for his daughter & grand-daughter.  He seemed to like that answer, even if it wasn't the preferred choice.

Looking back through Dan's life after his passing I could see that this man was a born patriot & warrior.  His brothers told me stories marveling at his pain threshold, Dan would be the only one still smiling over their mischief as their father whipped them.  That tolerance would later save his life.  Countless stories told of his desire to challenge the unconquerable, both in mind & body.

On a treasured 8 hour drive to Austin, Dan retold his adventures in the Corps & Vietnam to Valerie, something she cherishes but wishes she had the foresight to record.  Something about Vietnam completed Dan, becoming both the best time of his life and its undoing.  He was proud of his service to Corps & country.  His best friends are Marines.  His proudly displayed library contained either textbooks or literature such as Baa Baa Black Sheep, Pictorial History of Vietnam, & History of the United States Marine Corps.  One of his most prized possessions was his green service dress hat, on which he displayed his ribbons, medals, & badges.  For his last Christmas we snuck it out of the house and mounted it in a custom shadow box.  It now sits atop our armoir in our living room.

Dan entered MCRD San Diego with his high school friend Ned Sarty.  Ned is a man with an aura of character and honor.  This he credits to Dan.  Together they served in Hotel Co, 2nd Battalion, 1st Marines.  Ned is the man who narrated to me the story of Dan's final day in action.  Camped on No Name Island, it would be an 80mm SFD that would send Dan home after only a month & a half, March & April of 1969.  Up to the day he died 37 years later, pieces of shrapnel were slowly working their way out of his body.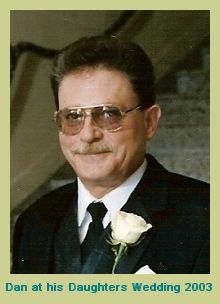 Triaged in Vietnam, they said Dan wouldn't live through the night.  The next morning they decided they'd better do something.  From what I can piece together, on the flight from Vietnam to Guam & once in Guam, he had a rotation of doctors working non-stop to repair his body & control the damage done by leaving the wounds open.  I'm told that somewhere Dan's name is in a Naval record book for most surgeries one 1 soldier in a given time.  A ballpark of 160 I hear.

Once done with Guam he had to undergo treatment in a methadone clinic before returning to the US.  Seems the choice of painkillers differs from the US, where heroine isn't quite acceptable.  Dan's new life began at the Naval hospital in California.  Meeting men who where to be lifetime friends, Dan was surrounded by a new family.  Through the efforts of a man named David Zane, a group of Marines began to assimilate back into civilian life. 

Though the group began larger, once boiled down it was Bill Hardy, Ubaldo "Speed" Medrano, Lalo Perez, and of course Daniel L Bohn.  One of my favorite pictures, one showing the indomitable human spirit, is that of these four "disabled" veterans hiking up their pants to show a prosthetic leg with a Marine Corps tattoo (sticker), and smiling.  Take what life deals you and have fun with it.

These men met regularly for years, sharing family vacations.  These reunions petered out as each got older.  It had been 6 years since they had seen each other.  Unfortunately it was my phone call that got them back together.  The first one was to tell them that Dan was in the Oklahoma City VA hospital, going from bad to worse.  The second was to tell them that their brother was gone.  The most healing part of our grievance was spending time with these men, Dan's other family.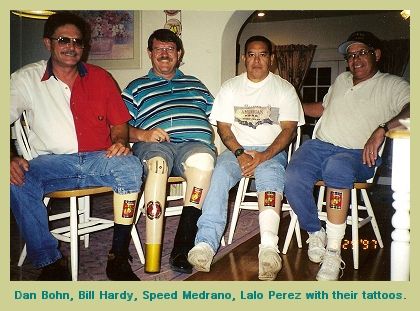 Dan's service was perfect.  Marine Corps Honor Guard.  Eulogy by USMC Ned Sarty & USMC Bill Hardy. Taps and the flag.  Valerie had hoped to play a song that suited her Dad well, one that played on a music box he had given her as a child;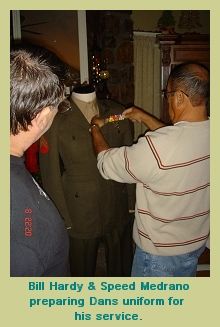 Dan was to be cremated, but it wasn't right that his uniform wasn't on display.  We had found his service dress a couple days ago.  I hit the local A/N surplus store and got replicas of all his ribbons and badges.  My mom tracked down a tailors mannequin (no head or appendages).  The day before Dan's service his friends dressed the mannequin in the uniform.  The care these men put into honoring another Marine was humbling.

To dream the impossible dream

To fight the unbeatable foe

To bear with unbearable sorrow

To run where the brave dare not go

To right the unrightable wrong

To love pure and chaste from afar

To try when your arms are too weary

To reach the unreachable star

This is my quest

To follow that star

No matter how hopeless

No matter how far

To fight for the right

Without question or pause

To be willing to march into Hell

For a heavenly cause

And I know if I'll only be true

To this glorious quest

That my heart will lie peaceful and calm

When I'm laid to my rest

And the world will be better for this

That one man, scorned and covered with scars

Still strove with his last ounce of courage

To reach the unreachable star

His medals include;

Bronze Star / Combat "V"

Purple Heart

Combat Action Medal

Presidential Unit Citation

National Defense Service

Vietnam Service Medal

Vietnam Gallantry Cross w/Palm

Vietnam Campaign

Vietnam Wound Medal

Something that struck me in the week following his passing was how everyone referred to him.  His Mom and brothers called him Danny.  His Marine Corps brothers called him Daniel.  His friends called him Dan. Danny the boy, Daniel the Marine, and Dan the man, each an accurate description of who he still was.

The memory of Dan's honor and fortitude is something I think about everyday.  I regret that it took his passing to learn so much about him.  I ask that if any of you read this and knew Dan, please contact me:

GREG McCOURT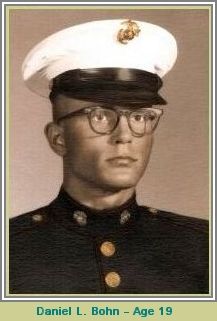 Read Daniel's

Bronze Star Citation

Click on Ribbon