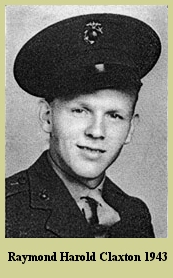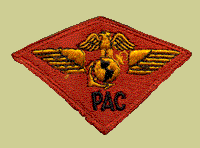 Food For Thought!

by Raymond Harold Claxton

I am now in my 80s, how time has gone by!

I am not staying young, no matter how I try.

My stride has slackened, my memory has waned;

But I still remember, the South Pacific Campaign.

I think so often, of friends that I made;

After Pearl Harbor's Japanese raid.

There were so many, that touched my life;

And helped me through the big war's strife.

Wayne Shafer, Modzelewski, Clayton Tarr too;

Norman Woodard, Eddie Mitchell, just to name a few.

They taught me to help keep the Liberator flying;

When they photographed those islands, at the risk of dying.

Our number is shrinking, as time marches on;

Loved ones are missing, the friends that are gone.

We are all down in history, with the 2nd World War;

As the proud Marines, of VMD-154.

More Food For Thought!

by Raymond Harold Claxton

An old ex-Marine had a dream;

He went back to the New Hebrides.

And found his old photo lab;

There among the coconut trees.

He found his old cameras;

Oh, if they could talk.

They would tell of dangerous moments;

Up and down that old catwalk.

They would tell of many flight lines;

By the PB4Ys.

And many enemy positions;

Caught by the camera's eyes.

If you were at Camp Elrod;

Then you were in his dream.

Along with all the memories;

Of that photographic Marine.

You ate at JJ's mess hall;

Fresh bread, I can taste it still!

The Seabees could smell it baking;

All the way down the hill.

You probably ate a coconut;

or at least drilled out an eye.

And drank too much juice;

Because your throat was dry.

Then with the extra trips you made;

Out to the head.

You pitched those little lizards;

You found squashed and dead.

If you can relate to his dream;

Then you have walked that mile.

And have a dream of your own;

That would make that old Marine smile.

Photographer for Admiral Nimitz

               I MET THEM ON THE FLIGHT LINE,

               I DID NOT KNOW THEIR NAME.



THEY SOON BECAME GOOD FRIENDS,


LINE MAINTENANCE WAS THEIR GAME.
               THEY TAUGHT ME ABOUT THOSE AIRPLANES,



WE SERVICED THEM WITH CARE.


THEY HAD TO TAKE THOSE CAMERAS


BACK INTO THE AIR.


THOSE CAMERAS STALKED THE ENEMY,


HE KNEW THAT THEY WERE THERE.


FOR THOSE OLD LIBERATORS


WERE FLYING EVERYWHERE.


THE ENEMY COULDN'T RUN AND HIDE,


AND HE KNEW THE REASON WHY.


THOSE EAGLE-EYE CAMERAS


WERE WATCHING FROM THE SKY.


THOSE ISLANDS THAT THEY PHOTOGRAPHED,


ARE KNOWN BETTER THAN BEFORE,


THEY WERE MAPPED AND RECORDED BY


VMD154.


IN THAT CHAIN OF ISLANDS,


THEN CALLED NEW HEBRIDES,


WE BUILT A CAMP AND PHOTO LAB,


AMONG THE COCONUT TREES.


IT WAS THERE THE CB'S "UGAHORN",


WARNED US IN THE NIGHT.


WHEN OLD "WASHING MACHINE CHARLEY",


WAS MAKING ANOTHER FLIGHT.


IF YOU SHARE IN THESE MEMORIES,


AND THEY'RE SOMETIMES IN YOUR DREAMS,


YOUR NAME IS ON THE MUSTER ROLE


OF THE CAMP ELROD MARINES.


WHEN I THINK ABOUT IT ALL


I KNOW WE'RE KIND OF PROUD.


WE WERE MEMBERS OF A SQUADRON



THAT STOOD OUT IN THE CROWD.
A SQUADRON THAT STOOD

OUT IN THE CROWD

by Raymond Harold Claxton