In the name of the President of the United States, the Commanding General, Fleet Marine Force, Pacific takes pleasure in  presenting the
SILVER STAR MEDAL to




Gunnery Sergeant James J. MacKenna










For service as set forth in the following


CITATION
:


"The President of the United States of America takes pride in presenting the Silver Star (Posthumously) to Gunnery Sergeant James J. MacKenna (MCSN: 1356083), United States Marine Corps, for conspicuous gallantry and intrepidity in action while serving as a Platoon Commander of Company E, Second Battalion, First Marines, in operations against the enemy in the vicinity of Co Bi Thanh Tan, Republic of Vietnam, on 29 May 1966. Sergeant MacKenna's platoon, along with the rest of Company E, had come to reinforce another company which had engaged an estimated Viet Cong platoon. As they were moving through a series of enemy reinforced bunkers, a hidden sniper, who had already killed and wounded several Marines, caused two of Sergeant MacKenna's squads to be pinned down. Unhesitatingly and with absolute disregard for his own safety, Sergeant MacKenna hurried to the critical point of the action and fearlessly moved along his platoon front in an effort to draw the enemy fire and learn the exact position of the Marines' adversary. While personally and courageously leading the assault, he was mortally wounded. By his valiant leadership, indomitable fighting spirit and tenacious perseverance in the face of tremendous odds, Sergeant MacKenna served as an inspiration to all who observed him and upheld the highest traditions of the Marine Corps and of the United States Naval Service. He gallantly gave his life for his country."






  For the President,


United States Marine Corps

Headquarters, Fleet Marine Force, Pacific

FPO, San Francisco. 96601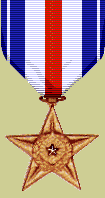 And here is a story from a newspaper in Philadelphia, which is where he was born.

"The career Marine non-commissioned officer was killed in Vietnam a week before he would have completed 20 years of military service and become eligible for retirement. MacKenna had been in the war-torn country more than a year, but instead of returning to the United States, he extended his tour with Company E of the 2nd Battalion, 1st Marines, 1st Marine Division, and remained in Vietnam. The gunnery sergeant died on May 29, 1966, near the village of Phu Bai in Thua Thien Province. He was posthumously awarded the Silver Star. MacKenna had attended St. Thomas More High School. He enlisted in the Army in 1946, when he was 17 years old, and then enlisted in the Air Force a year later. After another year of service, MacKenna enlisted in the Marine Corps and served with the Marines during the Korean War. He was survived by his father, brother and sister. Source: Philadelphia Daily News 10/26/1987"

Another aside – After we loaded the casualties aboard choppers, our company clerk told me that Sgt. MacKenna was actually supposed to have left on a supply chopper later that day to meet his wife in Hawaii for R&R, before shipping over and returning to Nam.

Obviously, Sgt. MacKenna was quite a guy. He was one of 21 Marines from 2/1 who gave their all on that day in 1966. I hope this oversight can be validated and corrected.

Doug Jones E/2/1 '65-'66


V.H. KRULAK

LIEUTENANT GENERAL, U.S. MARINE CORPS

COMMANDING