"For extraordinary heroism while serving as a Radio Operator, Headquarters Company, Second Battalion, First Marines, First Marine Division, in connection with combat operations against the enemy in the Republic of Vietnam on 20 September 1970. While proceeding to an area along the Song Bong River, 25 miles southeast of Danang to establish an observation post, Lance Corporal Herring's patrol tripped a booby trap and began receiving heavy fire from a concealed enemy force. Although wounded himself, Lance Corporal Herring checked on the condition of the other members of the patrol and reported by radio that the rest of the patrol was either dead or severely wounded. While awaiting the arrival of reinforcements, he was wounded a second time as he courageously and singlehandedly repelled three separate enemy attacks while at the same time assisting the other wounded Marines to an area of relative safety and dressing their wounds. After the arrival of the relief force, and although mortally wounded, he attempted to assist in the evacuation of his wounded comrades. Only after he was assured that all of the injured Marines had been loaded on the helicopter did he allow himself to carried aboard.

His bold initiative and resolute determination inspired all who observed him and were instrumental in the accounting of seven enemy dead, as well as evidence of enemy wounded who had been removed from the ambush area. By his courage, aggressive fighting spirit, and unwavering devotion to duty in the face of great personal danger, Lance Corporal Herring reflected great credit upon himself and upheld the highest traditions of the United States Naval Service. He gallantly gave his life for his country.

For the President,  John H. Dalton  Secretary of the Navy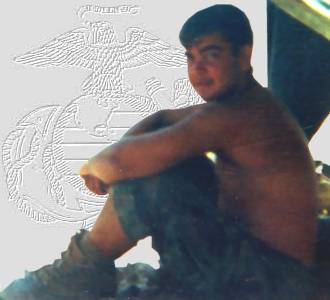 Michael Caltigirone, Hotel, '69-'70, was a good friend of Alfred. Mike was one of those saved by Herring's valor. He has never forgotten his friend, or as he says..."not ever, not one day!"

Mike posted this note to Alfred on the Virtual Wall:

Jimmy (Alfred's middle name), it was a long time ago that we served together in 1970. I remember as if it were last night. When we got hit, you did just what you told me you would do so many times. You gave your life so others could live. What more could Corp or Country ask? Your picture hangs in my home, just above where I am writing to you. You are always in my heart and you will never leave my wall. I have a copy of your Navy Cross citation to the left of your picture.

Jimmy, thank you for saving us.

Semper Fi forever...    (CAL)

Mike also wrote the following poem to Alfred. The poem was published in 1990 by the National Library of Poetry. This was written six years before Alfred was awarded his Navy Cross, 26 years after his death.

To walk where I have walked,

to see what I have seen,

To feel what I have felt

Then, and only then, would one be one with myself,

To finally understand how I feel.

To be able to be finally free,

From the haunting faces of dying friends,

To be free from the memories of Death,

That come in the night

To bring you back again and again.

To be able to once again smile,

If only for a little while,

To feel love once again,

To be able to have a friend.

Your friends just couldn't understand

What changed your life forever, in that distant land,

You feel so lost, so helpless

Where it was once so easy to proudly stand.

So where are the answers to be found?

I hope and pray they hurry while I'm still around.

For I love my country, it is my home.

I'd give my life to protect it and I know I'm not alone.

For there are others who have walked where I have walked,

Others who have seen what I have seen,

And felt what I have felt

Others who are still waiting to finally "come home"...

Thank you, Mike for not forgetting your friend and our Hero.