The Secretary of the Navy takes pleasure in presenting the NAVY ACHIEVEMENT MEDAL to



              CORPORAL FRIEDRICH STALZER



UNITED STATES MARINE CORPS
for superior professional achievement as set forth in the following



CITATION
:



               "While serving with Headquarters and Service Company, Second Battalion, First Marines, First Marine Division in connection with combat operations against the enemy in the Republic of Vietnam from 9 September 1970 to 27 May 1971, Corporal Stalzer performed his duties in an exemplary manner. As a Radio Operator, he displayed outstanding Initiative and perseverance despite the extremely adverse conditions and difficulties associated with a combat environment. By his consistently high level of efficiency, he materially enhanced the operational effectiveness of his unit and gained the respect and admiration of all who associated with him.  As Radio Watch in the Combat Operations Center, he demonstrated an exceptional ability to understand all radio transmissions concerning tactical decisions and was able to relay to the Watch Officer a clear and concise read back of the transmissions. Attached to Company F in January1971, he supervised the unit's communication system in a highly exemplary manner. Recognizing the tactical advantage gained from well-trained, responsive radio operators, he instituted a program of instruction on correct radio procedures and preventive maintenance, thereby greatly enhancing the individual proficiency of his men and contributing significantly to the accomplishment of his unit's mission. Corporal Stalzer's outstanding professional ability, untiring determination, and steadfast devotion to duty throughout his tour in the Republic of Vietnam reflect great credit upon himself, the MarineCorps, and the United States Naval Service."       


WILLIAM K. JONES
                  LIEUTENANT GENERAL, U. S. MARINE CORPS

     COMMANDING GENERAL, FLEET MARINE FORCE, PACIFIC

FOR THE SECRETARY OF THE NAVY,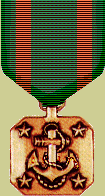 The Combat Distinguishing Device is authorized.