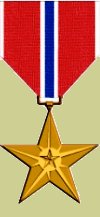 The President of the United States takes pleasure in presenting the

BRONZE STAR MEDAL to

                  Hospital Corpsman Third Class John David Myers




UNITED STATES MARINE CORPS
For service as set forth in the following



CITATION



               "On June 25, 1966 during Operation Jay, Company H, Second Battalion of the First Marines, came under sniper fire. As men took cover, Corpsman Myers noticed a helicopter crash behind the tree line.  From his sheltered position Corpsman Myers raced 300 yards under heavy fire across open terrain to the downed helicopter.  Under a hail of bullets he directed the evacuation and treatment of over 20 of the wounded and remained alert that night treating those who could not be evacuated.
The next day Corpsman Myers exposed himself to heavy fire to treat and carry to safety numerous heat and battle casualties.  Hospital Corpsman Third Class Myers repeatedly displayed exceptional courage and devotion to duty while under heavy enemy fire".

Hospital Corpsman Third Class John David Myers is authorized to wear the Combat "V""




                      FOR THE PRESIDENT



             V. H.  KRULAK
                  LIEUTENANT GENERAL, U. S. MARINE CORPS

     COMMANDING GENERAL, FLEET MARINE FORCE, PACIFIC



The medal was presented at Moffett Field, California, by Captain Sam El Clark.

Submitted by: Don Hicks, Echo Co 1965 - 1966 -- DHinHR@aol.com