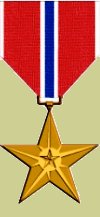 The President of the United States takes pleasure in presenting the

BRONZE STAR MEDAL to

         LANCE CORPORAL ANTHONY JOSEPH GALASSO, JR.




UNITED STATES MARINE CORPS
For service as set forth in the following



CITATION



               "For heroic achievement in connection with operations
against the enemy in the Republic of Vietnam while serving as a Squad Leader with Company G, Second Battalion, First Marines, First Marine Division.  On 14 May 1968, Lance Corporal GALASSO's squad was providing point security for a supply convoy moving from the Khe Sanh Combat Base to Ca Lu, when the Marines were ambushed by a North Vietnamese Army force supported by rockets and mortars.  Realizing the importance of gaining fire superiority over the enemy, Lance Corporal GALASSO skillfully deployed his men to defensive positions and directed a heavy volume of suppressive fire on the enemy positions. Then with complete disregard for his own safety, he aggressively led three of his men toward an enemy machine gun emplacement and destroyed it with hand grenades. Although he was wounded during the assault, he resolutely continued forward to a building in the area and killed an enemy soldier who was attempting to flee. After assisting two wounded companions to a truck while other squad members provided covering fire, Lance Corporal GALASSO returned to his men and provided security for the convoy as it departed the area. His courage and aggressive reaction to the enemy ambush inspired all who observed him and greatly minimized the effectiveness of the enemy attack. Lance Corporal GALASSO's dynamic leadership, bold initiative and selfless devotion to duty in the face of intense enemy fire were in keeping with the highest traditions of the Marine Corps and of the United States Naval Service."

Lance Corporal GALASSO is authorized to wear the Combat "V"




                FOR THE PRESIDENT




             H. W. BUSE, JR.
                  LIEUTENANT GENERAL, U. S. MARINE CORPS

     COMMANDING GENERAL, FLEET MARINE FORCE, PACIFIC